♥️ SOLO AMOR ♥️
spring/summer '24
"La vida es una aventura que tenemos el privilegio de disfrutar. La vida siempre nos da oportunidades para ser felices. Encontrar la belleza en el olvido. Respetar a todo el mundo. Procura que nadie devuelva mal con mal y busca siempre el bien, tanto para ti como para los demás. Omnia Vincit Amor."

♥️🧷♻️🍒✂️⛓️🪡
An ode to the power of love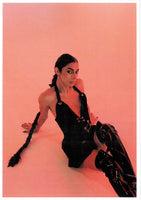 ABOUT NENA
NENA
Nonconformance - You don't want to wear the same as everybody else. Every item at Nena is unique and numbered in its series, e.g. 1/25.
Extravagant - Never hold back. Be unapologetically you. Nena wants you to feel powerful and fearless in your own skin with reconstructed fashion designed to flatter all body types. Our sizes range from XS to XXL.
Nomadic - Wander out of the familiar and into the new. Nena's garments are genderless, welcoming a style that everyone can enjoy.
Avant-garde - at the forefront of design. Nena is here to push boundaries in style and practice. Seeking out the latest innovations in sustainable fashion and experimenting to find the next.
go